Let's face it, we could all use a little more self-care and self-love in our lives. It's time to chuck the materialistic gifts that no one needs out the window and instead, focus on gifting them something that will promote health, wellness, and all-around comfort. If you're looking to send them some good vibes this season, then continue reading because I've got you!
Wondering what to get the fitness junkie, yogi, or overall wellness enthusiast on your list? Discover some of my favorite self-care gifts and wellness gifts with this gift guide! Happy shopping!
*Please note: All of the products listed in this post are my personal recommendations (and…what I would actually want as gifts!) and may contain affiliate links. You won't be paying a cent more, but the small affiliate commission I receive will help keep the blog running and content coming to you. Thanks!
The Best Self Care, Health and Wellness Gifts for You and Everyone On Your List
If you know anything about sitting, you'll know that most of us do it a lot more than we should. All of that day-to-day sitting is not good for anyone and will begin to cause back pain for a lot of us. In comes Purple's Ultimate Seat Cushion to the rescue. For ultimate sitting luxury, the Ultimate Seat Cushion makes the perfect gift. Longer, wider, and taller than any other Purple cushion, the Ultimate provides maximum comfort for all, especially when sitting for hours on end (it's made for 8+ hours of sitting). My coworkers and I swear by this cushion! They also have amazing back support cushions as well. For the sake of your butt, your back, and your overall health, the splurge is worth it.
Read More: The 15 Home Office Upgrades You'll Want For Working From Home
Foot mask, say what? This is a special foot mask with skin smoothing and moisturizing ingredients (17 types of natural vegetable extracts) made to get rid of coarse, dull, and dead skin on the foot. You'll notice after just one use, smooth, soft and clean looking feet are revealed.
TheraBox – Self Care Subscription Box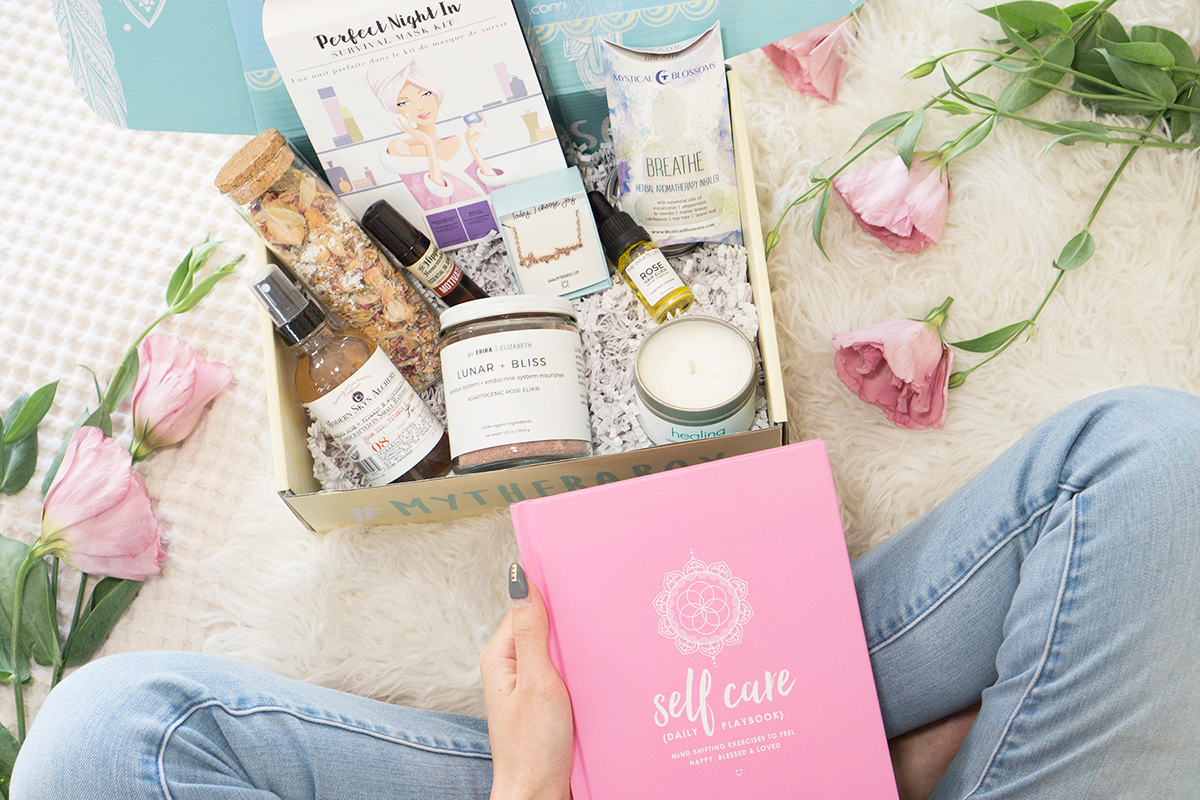 Unbox happiness on a monthly basis! This wildly popular box is one of our favorite gifts for people who need a little wellness in their lives. TheraBox contents are mindfully curated by therapists to reduce stress & increase joy through self-love. Each box includes 1 research-inspired therapeutic activity to promote gratitude and happiness. It will also feature 6-8 self-care and wellness products that will serve to reduce stress & enhance her mind, body, and soul! She can expect products ranging from aromatherapy, natural/organic bath, body, skincare products, and other lifestyle goodies!
Each box has over $120+ retail value, so this is quite a deal for the price you're paying!
Frequency: Monthly
Cost: Plans starting at $30.99/month, cancel anytime
Ships to: Ships worldwide from the United States
Click here to subscribe.
HopeBox
HopeBox is literally the gift of comfort and love! This box features books, aromatherapy, jewelry, candles, snuggle buddies, organic soaks, scrubs, masks, and more. The coolest thing about the products is that they're sourced from talented artisans, all of whom have their own inspiring stories of hope and renewal. Each self-care product is full-sized, vegan, and cruelty-free. You can choose between the Hopebox Light (6+ items, retail value $65+), Hopebox (10+ items, retail value $115+), and the Hopechest (15+ items, retail value $165+).
Frequency: Monthly
Cost: Plans starting at $43.99/month, cancel anytime
Ships to: Ships within the US
Click here to subscribe.
Goddess Provisions Box
If you know that someone who loves astrology, horoscopes, or all thing spiritual, a Goddess Provisions subscription will be the perfect gift. These subscription boxes are curated to nurture your inner goddess and help grow your spiritual practice. Each box contains 5-7 full-size products with a total retail value of $80-$100. All the products inside are vegan, cruelty-free, and natural. You can expect a mix of crystals, aromatherapy, natural beauty products, superfood snacks & spiritual tools.
Frequency: Monthly
Cost: Plans starting at $28/month, cancel anytime
Ships to: Ships within the US for free
Click here to subscribe.
Capri Blue Candle in Volcano
No lie, we absolutely adore Capri Blue candles, especially Volcano, their signature scent. Volcano is an energizing blend of exotic citrus and sugary notes. Feeling like you're in a tropical paradise doesn't have to include flying miles away! The scents of all of their candles are simply divine and will transport her to her best tropical dreams. Capri Blue also has equally amazing diffusers, too!
Finally, a natural bath bomb that doesn't exist just to stain your bathtub! This popular set comes with 12 uniquely handcrafted bath bombs, great for anyone looking for some R&R and self-care. Made in California, USA with premium natural ingredients as well as a lightweight moisturizer to keep you hydrated but will not leave your skin sticky.
These anti-wrinkle, energizing gold eye-masks are perfect for the hustler in your life that doesn't have much time on their hands for self-care. Not only are these undereye masks super cute, but they also provide an effective solution for people with hectic schedules. Throw a pair on in the morning or during your flight and let it work its magic. In just 15-minutes, they'll lift, brighten and calm the undereye area, resulting in a natural youthful glow.
This beautifully illustrated handbook makes self-care a whole lot easier to actually practice. The Spirit Almanac provides readers with accessible rituals they will want to call on time and time again in order to feel more grounded and aligned with their senses and their purpose. This book invites readers to practice dozens of routines incorporating science-backed techniques like breathwork, meditation, and aromatherapy, as well as more esoteric offerings like astrology, crystals, and tarot.
Made with a super blend of lavender, vetivert, and chamomile, this pillow spray calms both the mind and the body, soothing you to sleep. Used as part of your bedtime routine, it will help reduce any anxiety you have and help you stay relaxed throughout the night

This is an aromatherapy tool similar to nothing else that you have seen on the market— it's aromatherapy to-go. It's a necklace that carries around the scent of essential oils all day long. It comes with 9 washable and reusable aromatherapy diffuser refill pads that will ensure a long lasting diffusing period and will provide a heavenly smell scent all day long.
Vitruvi Stone Diffuser
The Vitruvi Diffuser is absolutely gorgeous. Crafted out of high-quality porcelain, these beautiful stone diffusers will help him or her diffuse essential oils throughout their home, while doubling as a stunningly simple piece of decor. It's a self-care gift and a housewarming gift all wrapped up in one awesome product. Best of all, they come in 4 different earth tone colors.
Check Price / Buy Now on Amazon
Everyone loves a smoother, less acidic tasting coffee. Ovalware's Cold Brew Maker has got to be the hippest coffee brewer on the market. It's noted to lock freshness and flavor for up to 2 weeks within durable extra-thick glass for maximum temperature stability. Flexible for brewing hot or cold, tea or coffee, within a sleek design.
If you have a traveling fitness enthusiast in your life, consider gifting them this SKLZ Hydro-Roller, a foam roller and stainless steel bottle in one. The rugged foam roller design eases sore muscles, while the water bottle stores fluids to keep muscles hydrated.
Likely one of the most beautiful water bottles I've laid eyes on. A practical and sleek travel accessory, the S'well Teakwood Water Bottle makes hydration on the go simple and stylish. Made of BPA-free stainless steel, this innovative bottle combines a double-walled, vacuum-sealed design with a classicly beautiful matte finish that resembles the look and feel of natural teakwood. It claims to be able to keep drinks cold for 24 hours and hot for 12 hours.
This journal helps by reminding us that by taking the time to know ourselves and what our dreams are, we can appreciate the world around us and achieve our dreams. The journal presents supportive prompts and exercises along with inspirational quotes to encourage reflection through writing, drawing, chart-making, and more.
Everyone could use more happiness in their lives! Start your day with a better mindset and become a happier person. Using the science of positive psychology to improve happiness, this journal focuses your attention on the good in your life. With thought-provoking prompts, inspiring quotes, and weekly challenges, this journal will help you feel a little more positive every day.
Take water to the next level with an infuser water bottle. Make enjoyable water that actually tastes good. This will allow you to get more natural energy, vitamins and nutrients from your fruit infused water bottle while staying hydrated. Pre-fill with your favorite, energizing fruits and just add the water.
Luxury Waffle Weave Spa Robe
If you want the couple you know to feel like they're truly living a spa vacation, they've gotta look the part! What better way to do that than with a luxury waffle weave bathrobe that feels great against the skin? From our experience, robes made of 100% Egyptian and Turkish cotton make us feel the most at ease. This product actually comes as a set–one for him and one for her! While you're at it, how about treating them to some new luxury towels?
It's the ideal gift for any traveler who reads in their spare time. I love it for its small size and ultra-long battery life. The Kindle Paperwhite is the best in the market. It allows you to read in the dark, with ease and read in the sun without glare. You can fit thousands of books on it, so rest assured your traveler will never be bored on flights and long bus rides.
Your traveler will love a FabFitFun subscription if she loves surprises (my mom and I certainly loved ours). Customized beauty, wellness, fitness, and fashion products are delivered seasonally based on what you enter in your profile. For the amount of swag that comes in this box, the $50 price point makes it a steal. Seriously, there's really high-quality stuff in these seasonal boxes. You can sign up for them seasonally or annually and send them directly to your recipient's address!
DEAL ALERT: Use code FAB10 for $10 off your first box.
Read more about FabFitFun here and check out SubscriptionBoxExpert's reviews of all the latest boxes.
A curated subscription box, with a focus on beauty products, that will please that jetsetting makeup lover in your life. While you're at it, just get one for everyone you know. Who doesn't like a monthly assortment of surprises? Recommendation: get the 3-month or 6-month option, the perfect length of time for such a gift!
This gift will save them a heck of a lot of money if they love kombucha! With the help of some glass bottles, starter tea, and SCOBY (the bacteria and yeast culture that makes the magic happen), anyone can brew their own kombucha.
Bring that spa feel home. A natural option for hydrating skin is the Evian Natural Mineral Water Facial Spray. Great for an instant boost of hydration wherever you are. For even more of a cooling effect, refrigerate it before use.
Combine style and adventure with the new Garmin Fenix 5, one of the best multisport outdoor watches on the market. Complete with a wide range of tracking capabilities, plus built-in GPS and smart notifications, this sleek device has you covered no matter where you go. They're already elegant looking, but they also have interchangeable bands to take it one step further (in premium leather, metal, or silicone).
Read More:
New And Unique Travel Gifts For Every Type Of Traveler For 2018
Top Travel Gadgets That Will Make Your Trip So Much Better
The Best Travel Backpacks and Carry-On Bags For Your Next Trip