Struggling to find the perfect gift for that next birthday, graduation, celebration, retirement, or holiday? Well, then you've landed on the perfect post today!
One of my all-time favorite types of gifts, both to give and receive, are subscription boxes. Why? First, I love the element of surprise, as you really never know what you're going to get in each month's box. Second, it's a great way to discover and try new products that you otherwise would have never gained exposure to. The best part about them is that the subscriptions are super flexible. You can continue your subscription if you feel like it's worth the value, or cancel the subscription without penalty if you feel like you've had enough.
Below, I outline some of the coolest subscription boxes in existence today, with many of them being my personal favorites. So without further ado, let's get into the world of subscription boxes!
*Please note: All of the products listed in this post are my personal tried and true recommendations and may contain affiliate links. You won't be paying a cent more, but in the event of a sale, the small affiliate commission I receive will help keep this blog running. Thanks!
---
13 Of The Best Subscription Boxes To Gift For Any Occasion
Your lifestyle and beauty-loving gift recipient will love the FunFitFab if she loves surprises (my mom and I certainly loved ours, and never wanted it to end!). Customized beauty, wellness, fitness, and fashion products are delivered seasonally based on what you enter in your profile. For the amount of swag that comes in this box, the $49 first-box price point makes it a steal. Seriously, there's really high-quality stuff in these seasonal boxes. Don't miss that awesome promotional price!
For the beauty junkie on your list, a monthly Birchbox subscription will give her plenty of fun new products to try. It definitely helps that they all come in travel-sized proportions.
3. FOR THE ECO-FRIENDLY FRIEND: Alltrue
Alltrue (formerly known as CAUSEBOX) is a quarterly subscription box specifically curated with socially conscious products for women. In each seasonal box, you'll receive various lifestyle products that are cruelty-free and sustainably made. Products will include health, beauty, fitness, wellness, apparel, and home products selected by the Alltrue team.
Not only are they focused on ethical and sustainable production, but many featured brands donate a portion of proceeds to charities and/or employ local artisans. Talk about supporting a good cause!
DEAL ALERT: Use code WELCOME20 to save 20% off your first box!
Atlas Coffee Club is a bit different from other coffee subscriptions out there because they feature only single-origin coffee from around the world. The origin changes each month and includes Tanzania, Kenya, Colombia, Brazil, Ethiopia, and beyond.
This is a great way to discover some of the best coffees from around the world. Each box also includes a postcard from a new country each month, coinciding with your coffee's origin, as well as tasting notes & brewing tips for each batch.
They also have great customer service, so if you receive something that just doesn't do it for you, their customer service will do what they can to make it right! Atlas Coffee Club also offers separate gift subscriptions, so you can keep the gift a surprise until you're ready to reveal it!

With this snack box, you can discover Japan through snacks! I'm a huge fan of Japanese candies and snacks. If any culture has done food items right, it's definitely the Japanese. Every snack I've encountered is always so adorably packaged and simply tastes of premium quality. Each box holds 20-25 premium Japanese snacks and candies, as well as tea pairings expertly curated and sourced directly from artisanal regional makers in Japan.
We all have that one keto or low carb dieting friend who can never eat out with you or the rest of your friends. Treat them to what they really want–a Keto subscription box filled with high quality, nutrient-dense, macro-friendly snacks. The best part? All snacks are 5g net carbs or less! (Wow, sounds like we should all be eating more of these snacks instead of Hot Cheetos or cookies!)
Know someone who loves health-conscious snacking? Well with this box, they can indulge in tasty chips, nutrition bars, savory jerkies, better-for-you sweets, nuts and more! Since they're always featuring new and up and coming brands, you'll be the first to try a variety of premium and artisanal snacks that not only taste great but are healthy for you, too. SnackNation boxes range from 8 – 150 snacks per month.
Gentleman's Box is a men's fashion and lifestyle subscription box. Each box honors a noteworthy gentleman and consists of 4-6 fashion pieces, grooming essentials, or useful accessories at your door monthly. Each box also comes with a Gentleman's Post booklet, packed with fashion tips, product info, and member interviews.
You can now bring home a new escape room/murder mystery experience every month (but without the room to escape or the dinner theater aspect). Way more convenient! The creators, writers, and designers of this product have crafted an immersive, authentic gameplay experience where every detail matters. Each box will be a different episode, continuing on until you finally crack the case. You'll feel like you are solving a real-life murder mystery. Hunt A Killer is a great option for date night, game night, teaming up with friends and family, or just playing on your own. How cool is that?
10. FOR THE SELF-PROCLAIMED GEEK: MyGeekBox
This subscription box will make the perfect gift for the geek in your life, whether they're obsessed with movies, TV shows, comics, Disney, or video games. Given the wide range of geekdom listed, you're sure to know one or two in your life! The boxes will often include exclusive items that you can only get your hands on by subscribing to MyGeekBox. Not only that, they're also super high in demand and often sells out. Don't miss out on this one.
This geode box comes with 10 large geodes that, when cracked apart by a hammer, will reveal beautiful crystal formations. It's a great way to teach children about rocks, volcanos, and sedimentation. And also just an all-around fun activity to do with your friends and family! Since they are natural geodes and not man-made products, you never know what's going to be inside.
Another great science gift set. With this box kit, kids can simulate excavating 15 real fossils with real tools, including dinosaur bones, mosasaur & shark teeth.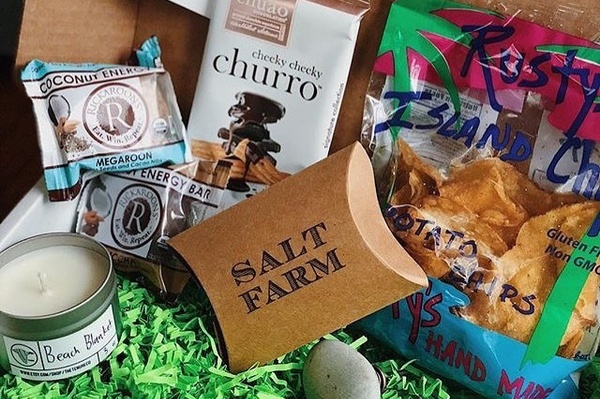 This snack subscription box is so creative and fun, especially for people who are cooped up at home but have a travel bug that never really goes away. With Explore Local Box, you can explore a new US city every month through premium, locally made food products!
Boxes include food items as well as non-food items that are locally produced by small businesses and local artisans from the featured month's city. You'll also get a watercolor map as well as fun facts about the featured city.
Previous cities include Albuquerque, NM, Chicago, IL, Brooklyn, NY, Portland, OR, and way more. They also have separate gift subscriptions, perfect for all the travelers and adventure seekers you know!
---
I hope after this post you've discovered some new gift-giving ideas. Remember, everyone loves a good subscription box gift. It's literally the gift that keeps on giving!
Read More:
New And Unique Travel Gifts For Every Type Of Traveler For 2020
The 17 Best Health and Wellness Gifts for Everyone On Your List